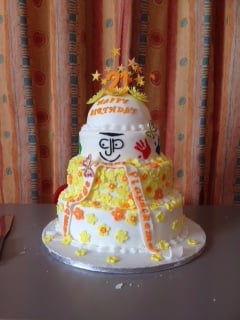 Wow! What a party.
On Saturday 21 March Cambridge Joint Playscheme hosted a birthday party to celebrate 21 Years of providing a service to the children and families in Cambridgeshire.
We invited past and present users and staff and their families and were delighted to see so many friends at the party. We were blessed with glorious sunshine (and cloud at times) but the weather remained dry so that we could enjoy the garden area of Granta School and play on the Bouncy Castle.
The party kicked off with some outstanding magic tricks from Robert Gough, he really took our breath away bending forks and coins, along with some amazing card tricks!
The Silent Disco was a huge success with LOTS of dancing, and very loud singing much to the amusement of those not participating! The wonderful Vicky was on hand for glitter tattoos and face painting before guests headed into our photo booth with a variety of props for a quick snap!
After a delicious hot lunch followed by scrummy fresh doughnuts and a sing song around the birthday cake, we were very lucky to have some Disney royalty visiting us. Princesses Elsa and Rapunzel came to the party accompanied by Batman to play some wonderful party games with the children.
The party was finished off with our amazing Raffle with some outstanding prizes.
As the guests were leaving a past user of the scheme stopped me to express what a wonderful time he had had and said "so see you next year for another party"!
I hope that all the guests enjoyed the party as much as we did. We felt it really summed up the spirit of Cambridge Joint Playschemes.
Photos from the party will soon be online but in the meantime we must thank some truly amazing companies
Robert Gough Close up Magician for wowing us all,
Bouncing-Beans Bouncy Castle Hire for the wonderful bouncy castle and disco lights,

Limelight Entertainment for sending Rapunzel, Elsa and Batman to play party games with us,

Greggs for the doughnuts,

White Doves Catering for the stunning birthday cake,

AJs Discos Hire & Events for the silent disco,

Making Smiles for our beautiful face painting and glitter tattoos

B.Eley's Photography for our photo booth

Tesco, Newmarket Road for their donation of tea, coffee and squash

Chippys for our amazing lunch and last but not least

Granta School for the use of the school facilities.
Please visit the companies facebook pages and give them a like, support them as they do us!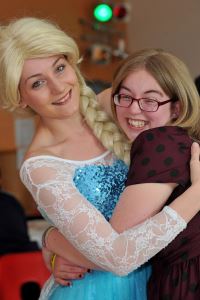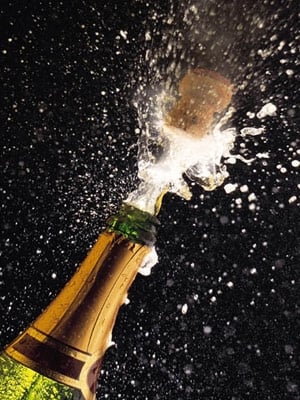 HAPPY BIRTHDAY TO US!
In 2016 we celebrate 21 years of providing a service to the young people in Cambridgeshire.
Time has flown past but this doesn't diminish our love for what we do.
Thanks go to...
We have been inundated with raffle prizes from local businesses. Huge thanks to those companies for their generous donations, which we hope will raise lots of funds for the Playscheme.

21st Birthday Banner
Huge thanks Alan, Kelly and the rest of the team at
Kallkwik Cambridge for their amazing banner which can be seen at the top of our page. This is 2m x 1m in size and will be used at the party and all future events. It really is wonderful and we can thank you enough.
Birthday Cake
Huge thanks go to Madlen and Mervyn Mathews from
White Dove Catering who have generously offered to bake us a birthday cake for our party. We can't wait to try it!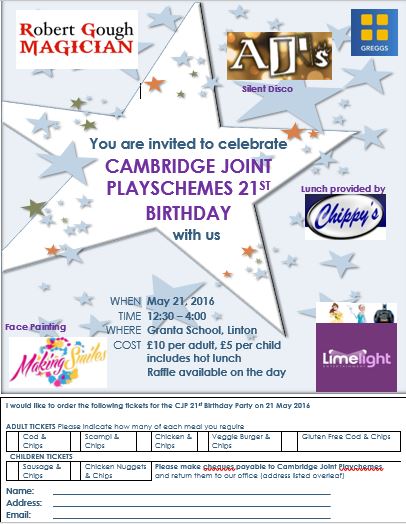 TICKETS ARE NOW AVAILABLE TO BUY
Please view PDF to see how to book for our Party
Party Time!
On 21st May 2016 we are holding party to celebrate 21 years of Cambridge Joint Playscheme. This will also be a fundraiser to raise additional funds for the scheme. We have lots of great entertainment booked and are hoping to see lots of old and current users of CJP.
Entertainment
We are so excited to announce our entertainment for the party, please click on the logos to get more information on our wonderful guests