Looking for a new challenging, fun, rewarding role? We are seeking Playworkers to join us at Saturday activity sessions and school holiday Playschemes. Further details can be found on our recruitment pages
We are delighted to announce the dates for our EASTER PLAYSCHEME for 2019.
We will be running a weeks activities at the Granta School, Linton from Monday 08 April - Friday 12 April 2019.
If you have a young person interested in joining us please contact us camjointplay@btconnect.com for further details and an application form.
Huge thanks to the Cambridge Arts Theatre, a wonderful time was had by all at last years Panto of Aladdin. The children and staff thoroughly enjoyed themselves.


We would also like to express a heartfelt thanks for the generous donation which was raised via a bucket collection for CJP at the Panto. This money will be put to very good use this year for outings and activities.
New Sponsors
We are extremely grateful to our new sponsors, TWI Ltd and Scotsdales Garden Centre who have generously donated to our Playscheme. Huge thanks from all the children and young people.
The Easter Playscheme was a huge success, we would like to thank Tesco Newmarket Road, Cambridge United Community Trust and Granta School for making it such a success and welcoming our young people! We really look forward to working with you again in the future. Full coverage can be found in our April 2016 newsletter which will be issued shortly. Photographs can be found online in our gallery as well as on our facebook page.
This year we are celebrating 21 years of Cambridge Joint Playschemes. Have a look at our 21st Birthday pages for a trip down memory lane and details of our 21st Birthday Party!
Welcome to our new Sponsor

We would like to welcome and thank the lovely team at Bouncing Beans who are kindly sponsoring our Playscheme. We look forward to working with you. I don't know about you but I can't wait to try out their bouncy castles!
Planning is currently underway for our Easter and Summer Playschemes. We are looking for companies to sponsor us for these events and provide fantastic opportunities for our young people. If this is something you are interested in please drop us an email office.camjointplay@btconnect.com
Sincere apologies for the lack of updates on our website recently, this was due to a hosting problem, which has now been repaired!
New Fundraising Opportunities
We have recently started collecting printer cartridges which we then recycle via Empties Please. If you do have any used cartridges or toners please let us know. We would love to take them off your hands!

Christmas Shopping?
Do you shop online? Do it through easyfundraising.org.uk and raise a free donation for Cambridge Joint Playschemes every time you shop! https://www.easyfundraising.org.uk/causes/camjointplay/
There is absolutely no cost to you and no catch - every time you shop online we get a donation!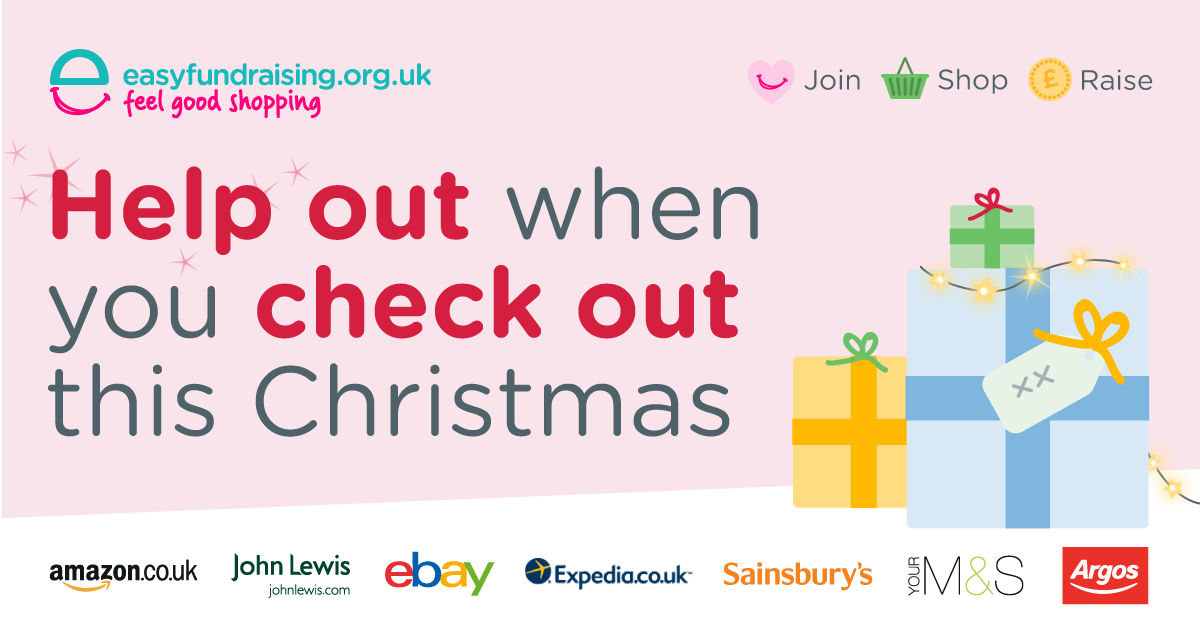 Our Chairman, David Jones, joined an interesting discussion on Radio 5 Live on Tuesday about "Who cares for Special Needs children after their parents are no longer able to or after they die". A challenging topic for many parents. A spokesperson from a Charity called Fitzroy is also part of the discussion which provides services to adults with special needs. The discussion can be found over on our facebook page. Makes for interesting listening,
Committee Members Needed
30 October 2015
In order to keep Cambridge Joint Playschemes running, we need more Committee Members. If you have an interest in keeping our scheme going we need YOU! The Committee meets 5 times a year for no more than 2 hours at time. Meetings are held during the day and we always have lots of tea & biscuits!

It's your chance to get involved and help raise money for our fantastic scheme. If you are interested please drop us an email camjointplay@btconnect.com

Playworkers Needed
Think you have got what it takes to work with our amazing children and young people? Head over to our "Staff" pages and download our application forms.
Cambridge Evening News: Community Awards 2015
05 October 2015
The winners gallery is now up and live on the Cambridge Evening News website. Great to see such worthy winners, including our very own Carol Brown.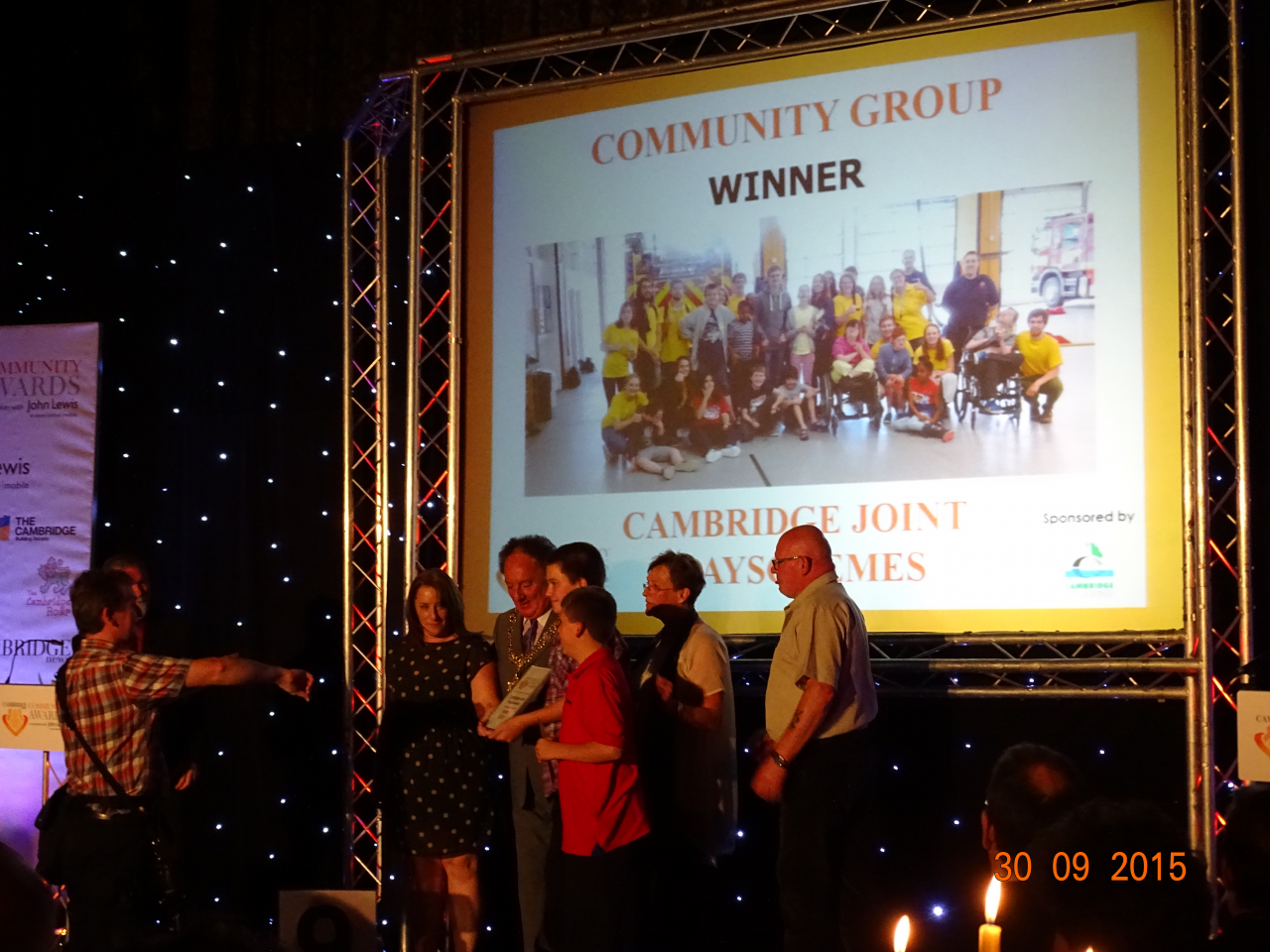 We are incredibly proud to announce that on Wednesday 30 September 2015 at an awards ceremony hosted by Homerton College, Cambridge Joint Playscheme were awarded the accolade of COMMUNITY GROUP WINNER 2015
Our Activities Manager, Carol Brown, was also awarded CARER OF THE YEAR 2015 for the amazing work she does at the Playscheme.
Photos are now available in our into our photo gallery as well as the the news coverage can be found online at Cambridge Evening News: Community Awards 2015
The Summer Playscheme was a huge success, we would like to thank Cambridge Evening News Press Relief Fund, Arts Theatre, Tesco Newmarket Road, Shepreth Wildlife Park, Scotsdales Garden Centre, Linton PCSO Team and Cambridge Fire Station for making it such a success and welcoming our young people! We really look forward to working with you again in the future. Full coverage can be found in our August 2015 newsletter.